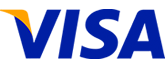 As a result of a legal settlement to resolve claims brought by a group of U.S. merchants, merchants in the U.S. and U.S. territories may add a surcharge to certain credit card transactions, starting January 27, 2013. Merchants who choose to surcharge must follow consumer disclosure and other requirements agreed to as part of the settlement.
Learn More

Pursuant to a settlement of the U.S. merchant class litigation, Mastercard will modify certain rules and business practices to permit U.S. merchants to apply an extra checkout fee, also known as a surcharge, to customers who pay with Mastercard-branded credit cards. The rule change permitting such surcharging will go into effect on January 27, 2013. These fees are not allowed on Debit Mastercard or Mastercard prepaid cards.
Learn More
Stop paying for other people's cards!